We recognize that all our patients are unique and deserve to receive orthodontic care that reflects their individual needs. Our experienced and talented team is committed to working with you and your family to create a comfortable, stress-free, and rewarding orthodontic experience every time you visit our practice.
We are pleased to welcome you and your family, and we look forward to working with you.
Front Office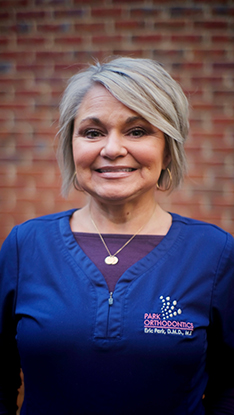 Dasha
Treatment Coordinator
I enjoy meeting new people every day and starting them on their new smile journeys!
Dasha has been with Park Orthodontics since 2011, having started her career in the dental field in 1994. She welcomes new patients to the practice, takes their initial records and exam notes, and writes up and discusses financial plans with patients and families. Dasha appreciates how giving and thoughtful Dr. Park is with his staff, and how he is always truthful and upfront with his patients. She also loves how helpful her coworkers are and how everyone is always willing to pitch in, to the benefit of one another and our patients.
Married since 1992, Dasha has a daughter and son who are now both grown. She's not quite an empty nester, though, since she has two fur babies who fill her home with love. Spending time with family and friends is Dasha's favorite hobby, followed by shopping and yoga.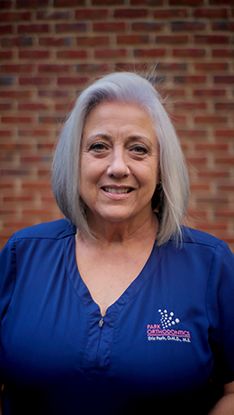 Randy
Support Staff
My favorite part of working is the satisfaction in helping patients reach their finish. The new smiles say it all!
Randy joined Park Orthodontics in 2017, after starting in the field in 1973. She works in the front office and back, wherever and whenever needed. She completed a certified dental assistant program in Iowa and then took employment and continuing education at the University of Iowa College of Dentistry for several years. Randy feels it is a privilege to work with Dr. Park and appreciates that he takes the time with patients and parents to educate them, which is reassuring to all. She also enjoys her work family and all the patients we serve.
Randy's personal life is quiet these days. She enjoys good music, reading, gardening, and football. However, her three grandchildren are her heart!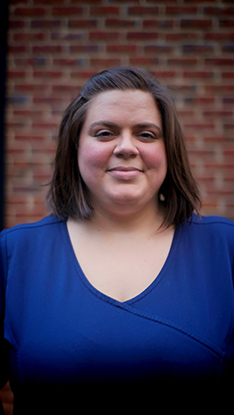 Dani
Front Office
I enjoy being part of a team that helps people feel more confident with their smiles and doing what I can to help the office run smoothly.
Dani came to Park Orthodontics in 2021, bringing her experience in reception, customer service, and pharmacy insurance to the office. She welcomes and checks in patients, answers the phone and responds to emails, schedules appointments, accepts payments, and keeps the office clean and tidy. Dani is happy to work for a kind and honest doctor and likes feeling like part of a family with her coworkers, our patients, and their families.
Outside the office, Dani is happy spending time with her spouse of more than 10 years and their two dogs and two cats. The family moved across the country on a whim in 2021 and haven't looked back. In her spare time, Dani enjoys reading, playing video games, painting, music, and movies.
---
Back Office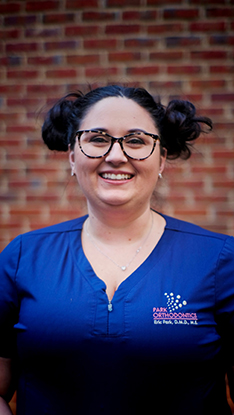 Chelsea
Assistant
I enjoy caring for patients and cherish the friendships that grow while patients are with us.
Chelsea joined Park Orthodontics in 2012. She started in the field in 2010. Chelsea does a little bit of everything, but spends most of her time in the back office. In addition to being a certified dental assistant with expanded duties, she is also X-ray certified. Chelsea loves the family dynamic of the office and how Dr. Park and the team are supportive of one another and our patients.
Much of Chelsea's free time is spent with her husband Tyler and their family of animals: seven goats, three dogs, and two cats. She loves spending time at the dirt track, antique treasure hunting, being outdoors, and making memories with her nephew.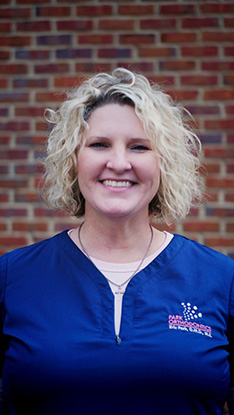 Autumn
Orthodontic Assistant
Putting braces on is probably my favorite physical part of my job. But the day a patient gets their braces off and sees their new smile? That's the day I'm all smiles, too!
Autumn has been with Park Orthodontics since 2018, assisting Dr. Park with various procedures and providing patient care. She has completed the expanded duties dental assistant courses II through VI, is CPR certified, and has worked in the field since 1997. Autumn appreciates that Dr. Park truly cares about his team, their families, and those in his care. She also loves her coworkers, our patients, and the families we serve.
Autumn's heart is full: she is engaged to her best friend, Bryan, and feels blessed to be the mother of two kids, Sarah and Hudson. She also feels honored to care for her mother, Sandy. Autumn and her family enjoy spending time with friends, their Goldendoodle Griff, camping, riding motorcycles, and she loves taking photos, too.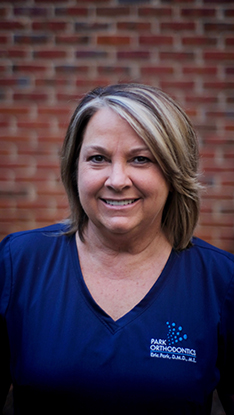 Dayna
Assistant
I enjoy working with great team members and like seeing patients' smiles change.
Dayna joined Park Orthodontics in 2021, having worked in the dental field since 1986. She assists Dr. Park with procedures; places, adjusts, and removes braces; and takes impressions, X-rays, and photographs. A former general dental assistant, she has attended both dental assistant and orthodontic assisting schools. Dayna is happy to be working for a great and thoughtful boss and loves how the team has fun together, along with our patients, during the day.
Dayna is a boy mom, a MiMi, and big animal lover. She has two Dachshunds, Jax and Lila, and loves spoiling her grandbabies: Camden, Raegin, and Brooks. She also loves spending time at her vacation home in PCB.